The standard response whenever some asshole makes the claim that women aren't as funny as men, Lucille Ball actually enjoyed a long and varied career as a dancer and non-comic actress before the explosive success of "I Love Lucy." Ball's resilience in an industry that praises youth and beauty over experience and talent is remarkable; consider that she was already 40 by the time "Lucy" hit the air, and she would remain a fixture on television through the 1980s. But let's start not with Lucille Ball the television pioneer; instead let's look at Lucille Ball the Ziegfeld girl.

Born in 1911, Ball proclaimed her amibitions as a performer at an early age. When she was seventeen she was sent by her parents to the Anderson School for the Dramatic Arts in New York City, where she took classes alongside Bette Davis (what a combination!). After attending for a few months, she was told she had no future and was sent back home. Oh hindsight, is there anything you can't make amusing?!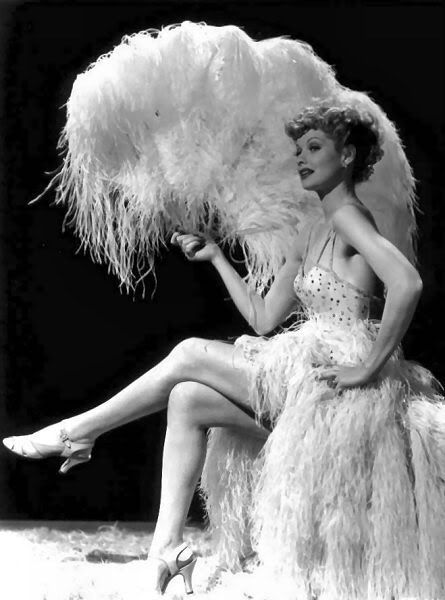 By 1932 she was back in New York working as a model for dressmakers. This was the age when women buying clothes would sit and have models walk out wearing the various dresses for them; Ball would later perform this task on film (uncredited) in 1935's "Roberta." Eventually she began to work her way into various theater productions, but she was never the runaway success she would later lead some to believe. In truth, Ball was fired fairly quickly from several shows, including a Florenz Ziegfeld revue and a Shubert Brothers production.

Fortunately the roving eye of Saumel Goldwyn found Ball and recognized something in her. The statuesque Ball (still moving back and forth between brunette, blonde, and redhead) was a looker with dance training and she knew how to carry herself. She was cast as one of "Goldwyn's Girls," the group of women used by Goldwyn and MGM to populate their musicals. Other actresses who would emerge from this roster included Paulette Goddard, Betty Grable, and Virginia Mayo. After some modest success as a chorus girl, Ball was signed by RKO.


At this point, Ball was still following the standard pattern of stardom for up-and-coming actresses. She was appearing in big-budget films such as "Broadway Bill," "The Whole Town's Talking," and "The three Musketeers." But she was having a hard time moving past roles like "Hat Check Girl," "Leggy Blonde," or "Telephone Operator." Her friendship with Ginger Rogers, established on the set of "Roberta," helped some, but she wasn't getting the big roles. Ball was definitely an odd commodity; very beautiful but in a unique way, she didn't have the usual glamour-girl looks. And while she was a capable actress, most casting directors and producers didn't know quite what to do with her.




Gregory LaCava's "Stage Door" offered her one of her best roles, as the wise-cracking best friend to Ginger Rogers (below at 3:30 min, she and Rogers head out as "companions" for two businessmen). Here she began to perfect her comedic timing that would serve her well, which lead to her being given the lead in RKO's B picture "The Affairs of Annabel," about a publicity hungry actress. The script was poor, but Ball's performance made the film a hit, enough that she would reprise the role in "Annabel Takes a Tour." She would toil in films like these all through the 1930s.



By the 1940s Ball had fallen into a pattern that it seemed she would never escape. Everyone agreed that she had talent, but parts for comedic dancers with a good figure and a strange look were hard to come by. Eventually Ball would become known as the "Queen of the Bs". There were bright spots, of course. Her performance in Dorothy Arzner's proto-feminist "Dance, Girl, Dance" was a bright dramatic spot. And performances in "Du Barry was a Lady" and "The Big Street" showed off her versatility, comedic smarts, and dance chops. But the big breakthrough just never happened. In the clip below, from "Dance, Girl, Dance," Maureen O'Hara is working as a burlesque dancer being heckled by the men for her ballet moves, when saucy Ball appears at 2:08 min:


In 1949, believing her film career over, she signed onto CBS radio's "My Favorite Husband," playing a wacky housewife. The role showcased her straight comedic chops and was an instant success. Recognizing the potential for a TV series, Ball and her husband Desi Arnaz put together a pilot for a television series entitled "I Love Lucy." But CBS didn't find it worthwhile. Even at the cusp of her greatest success, Lucille Ball still had to fight for recognition, taking a version of the show out on the road. The tour's success finally convinced CBS to take a chance on Lucille and Desi.

CBS would end up with the biggest hit of television's infancy, and the standard-bearer for all sitcoms to come. Ball and Arnaz would showcase their business acumen by becoming the producers of the show and eventually the entire studio. And Lucille Ball would finally become a grade-A star, after years of toiling in the character actress and B-list mines. It was worth it.

Suggested film Viewing:
-Stage Door
-Dance, Girl, Dance
-The Big Street
-Du Barry Was a Lady

Suggested TV Viewing:
-Virtually any episode of "I Love Lucy."