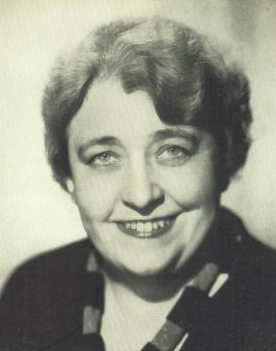 In retrospect, we tend to remember most supporting players for only one or two specific roles. Ralph Bellamy in "His Girl Friday," Hattie McDaniel in "Gone With the Wind," or William

Demarest

in Preston

Sturges

comedies. Yet these singular roles are often the apotheosis of a career filled with hard work that shouldn't be overlooked. Such is the case with the fantastic Jane

Darwell

. Known to most as Ma

Joad

in "The Grapes of Wrath," her long and distinguished career is actually full of great performances.



Darwell

was born in Missouri in 1879, the daughter of a railroad magnate. Her family resisted her acting ambitions, which might be why she didn't start acting until comparatively late in her career. She appeared in several shorts starting in 1913, but later returned to Chicago for stage work. It wasn't until she returned to Hollywood in the Golden Age that studio executives figured out what to do with

Darwell

, now in her fifties.

As a contract actor with 20

th

Century Fox, she appeared in both "Tom Sawyer" and "Huckleberry Finn" as the Widow Douglas, a great boost to her career. She continued playing bit parts through the 1930s, including six pictures with Shirley Temple. In the trailer below for "Captain January,"

Darwell

is billed as part of Shirley's "All-star cast":

For the most part, these films made good use of her combination of matronly warmth and spark of playfulness. She was cast memorably against type in "Gone With the Wind" as Mrs. Dolly

Meriwether

, one of the town's high society gossips.


Obviously, though, it was her part in "The Grapes of Wrath" that won her the best acclaim of her career. Playing Ma

Joad

, the stubbornly determined head of the impoverished

dustbowl

settlers,

Darwell

brought a new sense of drama and fierceness to the role that had rarely been seen in her light comedy/drama films. Supposedly Henry Fonda had to insist on

Darwell's

being cast in this role, and she must have seemed like unconventional casting. But her performance (for which she won an Oscar) is spectacular. Everyone loves her final speech, but personally I think this clip of her preparing to leave her home in Oklahoma is much more moving (it starts at 2:31 in):


Despite a brief lull after winning the Oscar (Variety reported that "Jane

Darwell

, who received the award last night for supporting actress for her work in 'The Grapes of Wrath' has worked only five weeks since appearing in this picture and has been unemployed for the past seven months"),

Darwell

moved on to more interesting work. She played a hard-bitten, sarcastic frontier woman in "The Ox-Bow Incident," and John Ford liked her enough that he cast her in several more films, including a brief but memorable role in "Three Godfathers" as a man-crazy old hoot.

Failing health meant that

Darwell

slowed towards the end of the 40s and 50s, doing more television work before semi-retiring. Her last appearance was at the personal request of Walt Disney; something made him think of her for "Mary Poppins," and she appears, looking very frail, as the bird lady in "Feed the Birds," a gracious and charming end to a wonderful career.

Suggested Viewing:
-Captain January
-Gone With the Wind
-The Grapes of Wrath
-The Ox-Bow Incident
-Three Godfathers