Some character actors (or "atmosphere players") play the same parts for years and years, to the point where they're not so much remembered for a specific film than for a body of work (like many profiled below, including Constance Collier, Victor

McLaglen

, and Ward Bond). And then there are those who break through to the public in one specific role, and to this day are remembered for it. One such example is Ralph Bellamy (the subject of an upcoming profile), who worked for years as a leading man but is remembered only for playing the

schlub

in "His Girl Friday." Another great example is Jean Hagen.

Hagen will forever be remembered for her co-starring role in "

Singin

' in the Rain" as Lina Lamont, a silent movie star unable to make the transition to sound due to her impenetrably thick New York accent. And with good reason; her scenes rank among some of the best female comic acting on film, particularly her inability to recite "I can't stand him" (see the link below). Lina Lamont is selfish, rude, and devilishly clever, and is ten times more fun than the bland Debbie Reynolds. Her accent would be parodied by Mia Farrow in "Radio Days," but it's a pale imitation. For her running time in "

Singin

' in the Rain," Jean Hagen owns the screen. It's ridiculous to think that she was beaten out for an Oscar by Gloria Grahame, but then again, the Oscars were as ridiculous then as they are today.



"

Singin

' in the Rain" was not the first film role for Hagen; after appearing on Broadway in 1946, she showed up in a small part in "Adam's Rib," and later as the would-be girlfriend of Sterling Hayden in "The

Asphalt

Jungle." She's especially good in "Jungle", as a down-on-her-luck call girl with no where else to turn. Hagen had a great ability to play dumb, as she does in both of these films, but "

Singin

' in the Rain" proves that it was all just an act.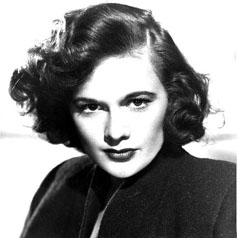 Yet after her acclaimed turn in "Rain," good parts were hard for her to come by. She showed up in about a dozen pictures always as the support, which strikes me as an unfortunate choice. Certainly she didn't have the classic good looks that many stars did, but she's no one's idea of unattractive, and she's certainly sexy to boot. Yet she didn't really shine again until she worked in TV as Danny

Thomas's

wife on "Make Room for Daddy." And here Hagen was part of an interesting footnote; having tired of the routine of the sitcom, Hagen wanted out after three seasons. So instead of replacing her, they actually killed off her character, possibly the first time on a situation comedy when this happened. Below is a link to the pilot episode of "Make Room for Daddy," including the original Lucky Strike commercials - Hagen first makes her appearance at 5:51 min, and is given very little to do. It strikes me that, appearing in 1953 two years after "I Love Lucy" began in 1951, that this was an attempt to ape the "Lucy" formula.



Afterwards Hagen did a lot of TV work and a few films, but very little of note. However, she did appear in "Sunrise at Campobello," the film version of the Broadway hit, along with fellow typecast actor, you guessed it, Ralph Bellamy. It's easy to say that Hagen was a victim of her own success, but at least she has one indelible, scene-stealing performance in her career.

Suggested Viewing:
-Adam's Rib
-The

Asphalt

Jungle
-Singin' In the Rain
-Dead Ringer